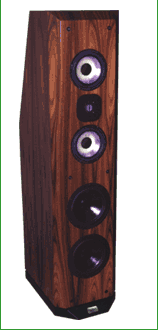 The STUDIO from Quintessence is a six driver, moving coil design featuring high efficiency (92.5 db) and a relatively easy load to drive (3 to 5 ohms). The design brief dictated that the sound quality must not only be representative of it's class, but to compare to the more expensive Quintessence models (Shadow, Stealth) which have received world-wide critical acclaim.
While the aesthetics of the speaker are clean, with more traditional lines that will comfortably fit into many different environments, it is also quite heavy (over 195 pounds) with substantial cabinet walls measuring up to 3 inches in thickness.
The STUDIO features innovative circuit topologies such as parallel trap circuitry in both the mid-range and tweeter band pass and a phase optimized band pass for the critical 7" mid range drivers.
Only the highest quality parts are used (air core inductors, polypropylene caps, H.P.R. resistors, W.B.T. binding posts, Monster wire, silver solder). Of course any manufacturer feels they make the best product at any given price point, but we invite you to listen to any other speaker priced at under $20,000 and then listen to the STUDIO from Quintessence.
We are passionate about the products we manufacture and if you are equally passionate about your music then you may find we offer a unique blend of science and aesthetic in the pursuit of music reproduction.

Frequency response
30 Hz to 22 KHz +/- 3 DB
Nominal Impedance
5 OHMS
Sensitivity
2.83 Volts yields 92.5 DB
Power handling
200 watts R.M.S. continuous / 400 watts peak
Crossover topology
2nd and 3rd order "damped networks" with parallel "trap circuit" implementation
Driver complement
6 moving coil drivers (2 x 9" woofers / 2 x 7" mid range / 1 x 1" titanium dioxide, vented gap tweeter / 1 x 1" silk dome rear ambiance tweeter)
Dimensions
55" Tall, 13" Wide, 17.5" Deep Bottom, 9.5" Deep Top
Weight
195 lbs. net / 230 lbs. crated