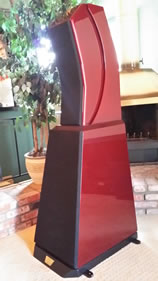 The QUINTESSENCE design team lead by T.S. Campagna, President, and Peter Noerbaek* set forth to design a speaker comparable to the critically acclaimed STEALTH (Quintessence Acoustics Flag Ship Product) but at a more accessible price point.
Innovative ideas have been incorporated into the circuit topologies in the SHADOW MX'S crossover, which have been optimized using the latest in computer software and measuring equipment, including FFT. These circuits achieve a complete seamless integration between all drivers. They include a phase optimized band-pass for the 7" mid-range drivers and a special parallel trap circuit in the tweeter section for an unparalleled transparency and openness in the critical high frequency range.
The end result is a state-of-the-art audio product as well as a stunning visual work of art! A bold statement? Perhaps... however, just one listen to the SHADOW MX and your pre-conceived ideas of what can be accomplished! We invite your critical inspection at your local QUINTESSENCE dealer.
* Senior engineer for PBN Audio, whose OEM speaker products have received world-wide critical acclaim.

Frequency response
29 Hz to 30 KHz, +/- 3 DB
Nominal Impedance
4 OHMS
Sensitivity
2.83 Volts yields 91 DB
Power handling
300 watts R.M.S. continuous / 1000 watts peak
Crossover topology
Combination 1st and 4th order "damped" networks with parallel "trap circuit" implementation
Driver complement
2 x 10" woofer, 2 x 7" mid-range, 2 x 1" fabric domed tweeters, 1/ 1" ribbon rear tweeter
Dimensions
61.5" Tall, 18" Wide, 24" Deep bottom, 12" Deep top
Weight
210 lbs. net / 290 lbs. crated